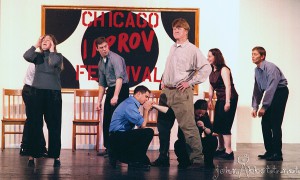 Baby Wants Candy, destroying the stage in CIF 2000. This image somehow made the Lifestyle section of the SunTimes the following year, heralding the coming of the improv festival.

I was practically new to improv back in 2000, when I heard about something called the Chicago Improv Festival.
Its hard to put into words how jazzed I was. I had just gotten into improv the previous year. Before that, I didn't even know that improv had existed. I'd already immersed myself into the community as an intern, both at Second City and iO. I kept showing up at improv parties, where veteran improvisers were simultaneously bemused and refreshed that a guy who was taking level C at SC, and level 2 at iO, had accepted their invitation. I was the guy who kept asking his favorite improvisers to sign his copy of An Incomplete Education with their best advice on how to get better.
Now I found out that there was a festival? For improv???
Suddenly, I was Veruca Salt in Willy Wonka. I would do anything for a Golden ticket… and I wanted it now.
I found out that a guy named Jonathan Pitts was in charge of the festival I immediately contacted him and offered to photograph it in exchange for access. But the festival was really new, and what it needed more then anything else was face-to-face PR.
So on a cold day in April, I found myself handing out CIF postcards in front of iO, as a hard freezing rain slowly lowered my body temperature.
My story would have ended there, if it wasn't for the fact that Jonathan suddenly found himself in need of a festival photographer. I gave him an idea of film costs, he approved, and gave me a short list of events that he needed to get photographed. In exchange, I was given an all-event pass.
..And I was off. I didn't just photograph the festival. I absorbed it. I went to every workshop that I could watch… every performance that had an empty seat. This was combining my two passions, Improv and Photography. I was in Valhalla. (Not to be confused with the improv team, Valhalla.)
If you're new to the improv community, you probably don't know how radical of a thing it was to have an improv festival in 2000. So take yourself back in time a little bit. There is no Phoenix improv festival. No Toronto Festival, no Gainsville, Raleigh, Seattle, Orlando, St. Louis, or Alaska improv festival.
If you wanted to go to a week of performances and workshops? You had to come to Chicago. And people came.
The 2000 class, at an Avery Shriver workshop at Second City
I mean, they came by the hundreds from all over the US and beyond. Full improv troupes spent a week sleeping on a floor at a friend's house to take a master class with Avery Shriver. -Or to find out what that JTS Brown was all about. They wanted to pay homage to iO, watch Rachel Dratch and Tina Fey perform, and, more then anything, learn something new about improv.
In the following years, the amount of students swelled, until every classroom in St. Alphonsas' top floor had been rented as a rehearsal space for Saturday workshops. By 2002, I was running between various venues for a solid week, shooting every single type of event. The first year, I had shot film. The next year, we started using crude first generation digital cameras. Every year after that, the shooting became more sophisticated and I'd learn something new.
I hadn't set out to become good at photographing improv. I wouldn't even say it was on my radar.
But it is a skill that I picked up over time, and I became skilled at photographing improv. It didn't hurt that I had watched over 5,000 shows at iO over the years, or that I understood the structure. If you know where a performance should go, you can occasionally anticipate a shot. But more importantly, you find out what makes an improv photograph great:
Threepeat, CIF 2013, at the Playground.
Reactions and moments.
Yes, its easy to find the zany moments where improvisers are tossing each other about. Or when someone creates a wacky face. (Yes, I just used the terms zany and wacky.) The best improv photos are about reactions and moments.
When I photograph an improv performance, I'm not just looking at the players. I'm looking at the people on the sidelines. I'm paying attention to the performers who look like they're about to break, or who looks like they have the "button" to a scene. I'm still listening to the performance, but I don't "shoot with my ears."
Let me explain.
CIF 2002; "TJ and Friend", on a Wednesday night. It later turned into a regular thing called TJ & Dave.
After every CIF, I spend days reviewing and editing my photos. In those first years, I wondered why I had taken so many images of two people standing and looking at each other. Look at that TJ and Dave photo, above. Obviously, I thought it was funny at the time. And it probably was… as long as you heard what they were saying. When photographing improv, you can't "shoot with your ears." You can't take the picture because the scene is funny. Because a hilarious scene might just look like two guys standing across from each other.
Adsit and Lutz, CIF 2013, in a private performance for performers.
Similarly, you have to look for moments. You have no idea what's going on in the scene above… but it piques your interest. They're connected. Its a definitive moment.
Now don't get me wrong. There are some images where the funny is apparent, and it doesn't take any back story to just find the image funny…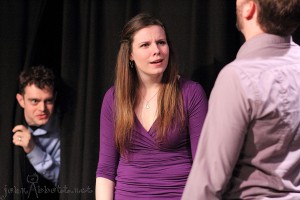 Hugs and Pullups, CIF 2013, The Playground Theater
You just look at the image, and it makes you smile. You don't need to know what was going on. In fact, its probably just as funny that you don't know what's going on.
If I were "shooting with my ears," I would have waited for the button of the scene. Or I would have photographed at the funniest line, instead of just looking for that thing that makes you wonder: "What just happened?"
If you're wondering what bought this all up, I just spent a good portion of a week editing down images from CIF 2013. I had a blast, as usual. I ran into a ton of old friends, and made a few new ones. CIF is consistently about the best things in the improv community to me. As an event, it's success can be seen in Phoenix, Gainsville, Toronto, Raleigh, Seattle, Alaska, and all of the other festivals that it inspired.
On a personal level, it reminds me of what I want to be doing more of.
The very first image that I posted here is of Baby Wants Candy. You'll note the Chicago Improv Festival sign behind it that I helped paint. While myself and a bunch of other interns were putting the set together, the people who were performing that night came to look at the stage.
I knew most of them. I looked up to all of them. There was an unspoken thing that us interns knew: these were the best improvisers in the world. -And though we were covered in paint and dust, they came up to us and shook our hands, thanking us for helping out with the festival. A few of them (Christina Gausas, Rachel Mason, Al Samuels, TJ, etc) recognized me from interning at iO, and called me by name.
Think about whatever you want to be the best at. Let's say it was basketball, and you had a chance to photograph Michael Jordan when the Bulls were taking championship after championship. Now imagine that as you're volunteering to put up the basket before the game when the players walk out. Michael Jordan and the rest of the players call you by name, shake your hand, and thanks you for your work.
That's how I felt.
Since 2000, I've gotten a helluva lot better at photographing improv. I've become way, way, way better at performing, and was even given a chance to perform at CIF years ago. I'm currently coaching three improv teams and I teach independent workshops. But like a lot of performers, I forget what I've accomplished. Now don't get me wrong. I am in no way comparing myself to the people in that first image. What I'm saying is that looking through all of the images, I'm reminded to listen when someone comes up after a show to tell me that they loved the show. To occasionally see things through their eyes, and remember what it was like when improv was magic to me. -And most importantly, to thank them for coming to see my show, for introducing themselves, or just for saying something kind.
I currently have about 65 Gigs of images from the Chicago Improv Festival and College Improv Tournament on my hard drive. Its a lot of memories, and a huge reminder to thank the people who remembered me by name.