If you haven't read about my "worst headshot" contest, you can read about it here.
You can start voting now!  If you like an entry, just click "Vote" on that entry in the gallery, below.  You can only click on it once.  Sorry, I don't know how to change your vote… so get it right!
Here's the entries, and a little bit of back story on each.
Janice:
My first headshot was adorable, but so terribly unprofessional (I used it for at least two years?!). My thought process was, I thought it looked "commercial". It's from a BBQ.
I would add my name to the bottom when I printed them glossy style at CVS.  😛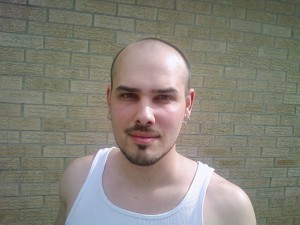 MB:
I am attaching a 'headshot' I ended up taking of myself for a last minute audition application I may or may not have found on craigslist.  It was the first time I had thought about acting again since moving home and shaving my head.  I had no other current photos, and for some reason I thought I would wear a grimy tank top and go out into the blaring sun, pockmarked and flushed.  And I think the worst part is that I actually thought it was a flattering photo at the time. Sigh…  Cest la vie.
Selene:
I actually used this more than once. Imagine handing this to casting directors.. Taken on my Nikon camera..
Huge props to the performers for sharing these with us!  -And thanks so much for the backstories.
There are more to come.
And yes, you can still enter.  Just e-mail me the worst image that you've ever used as a headshot.  If you include a story (as above) please let me know if you are okay with me sharing it, along with how you want your name to appear.
I'll send you a link after adding your image to the gallery.